Discussion Starter
·
#1
·
Well, technically not BOTM, but easily a pair of Brembo HPK calipers and a couple of race-spec titanium bolts away from a BOTM worthy build... Many have graced this forum with their finest street and track builds, taking bikes with 0 miles off the showroom floor into their garages to create some of the most customized, clever, and most expensive builds we ever seen shy of an AMA-level race team's garage. But looking through the thousands of threads, there are many bikes that have reached this pinnacle of greatness, enjoyed BOTM/BOTY status only to be stripped and parted out; but the process has never been documented. No one has officially documented the process of taking their highly modified bikes back into stock, OEM form- Until now...
Parts list: (
Going to clean this up and organize it in a later edit :crash
)
Rizoma Universal Sportline Billet Grips
Rizoma Conical Barend Caps/Sliders
Rizoma Universal Fit Fluid Tanks Size 27
Rizoma Fluid Reservoir Bracket-Brembo
Rizoma Universal Engine Oil Filler Locking Cap
Ohlins Damper Kit OEM Location
Evotech Top Yoke Nut
Graves Motorsports Smog Block off Plates
Yamaha Pazzo Racing Lever (clutch)
Spiegler Front/Rear Brake Lines
Tygon 2375 & Honda Cap
Woodcraft Swingarm Slider Spools
BMC Yamaha Air Filters
Cox Black Radiator Guards
Gilles VCR Rearset Super Sale
Pazzo Brembo RCS Lever
Renthal Road Race Clipons
FP Racing Preload Adjusters
Gilles Titanium Axle Nut (24mm)
Driven Evo-Spec Yamaha 520 Superlight Steel Chain Kit with EST Technology
Driven Mirror Blockoffs
Pazzo Brembo RCS Lever
10pc - Black D-Ring Dzus, Clip-On, OEM Plastic Bodywork(14mm)
4pc - Black D-Ring Dzus, Clip-On, OEM Plastic Bodywork(14mm)(
Tygon 2075 / 2375 Tubing - ID: 1/4in (6.35mm) - AJK00017
4pc - Black D-Ring Dzus, Clip-On, OEM Plastic Bodywork(14mm
Motodynamics 09-13 SEQ LED Taillight Smoke
Motodynamics 09-13 FE Kit
Puig DB Windscreen Smoke
Yamaha R1 (2009-up) Custom H.I.D Kit w\relay
SlingShot Racing Yamaha CNC Quick Release Racing Cap Black
Brembo 19RCS MC
Flash Tune ECU Reflash
Yamaha OEM Solo Cowl Black Metallic
MDI Side Tank Panels
Michelin Pilot Power 2CT
Resistors for flushmount signals
Alien Motion 8-cell Lithium Battery*
Ballistic 8-cell Lithium Battery
Translogic MD3 Dashboard with Universal Mounting Bracket
Brembo Rear Caliper with CZ Bracket
Lawst Caws Frame Plugs
Flash Tune QuickShifter and ECU reflash*
Braking Rear Rotor
Lightech Chain Adjusters
Flushmount Turn Signals
MDI Y-Pipe Heat Shield*
MDI Side Panels
MDI Air Box Cover
Titanium Hex Head M8 x (1.25mm) x 20mm Race Spec (qty:2)
Ti Banjo Bolt Simgle M10 x (1.00mm) Race Spec
Ti Disc Bolt Yamaha Pack x 5
Ti Disc Bolt Yamaha Pack x 10
Ti Hex M6 1.0mm Race Spec (qty:3)
Ti Hex M6 1.0mmx25mm Race Spec (qty:3)
Ti Flanged Nut M6
Ti Socket Cap M6
SS Steel Dome Head M6 1.0mm x 30mm
SS Flanged Nut M6 1.0mm
GB Racing Covers
Race Tech Suspension Tuning*
LacoMoto Rear Hugger and Swingarm Covers
Ohlins TTX MKII Shock GravesSpec with Graves Shims
Galfer Front Rotors
Harris Performance Brembo Mechanical Clutch Lever & Perch
Graves Sprocket Cover
Full Transportation Set - Canyon Dancer - Black Tie Downs
Renthal Grips - Medium
Ti Nitride Pin for Brembo Clutch Perch
SharkSkinz Race Tail
OPP Race Bodywork (Upper, Lower, Fender, Windscreen, Fasteners
(2) Driven Clipon Replacement Bar
Red Line Water Wetter
Tygon 2375 1-foot
No-Cut Frame Sliders
Lightech Chain Adjusters
Ohlins FGRT NIX 206 Forks 1.05kg/mm
StompGrip Tank Pads (Black)
Graves Motorsports LINK Y-Pipe
Graves Motorsports LINK Cans
Performance Friction Brake Pads .07
Pirelli Diablo Superbike Slick Rear 200/60
SBK Unlimited Kit Linkage
Driven 15T F Sprockets
Graves Rear Brake Return Spring
Marchesini M7R Wheels
MotionPro Throttle Kit
FlashTune DataLINK
APE Cam Tensioner
Graves Clutch Kit
RogerSBKComposites WSBK Plenum Intake matte Carbon Fiber
Techtronics CABS Auto-Blipper
Dynojet QS Sensor (Pull)
Dynojet QS Sensor (Push)
Custom machined stainless steel shift bar
Attack Performance Triples
Graves Velocity Stacks
Renthal Grips
Graves Clipon Bars
Street Form: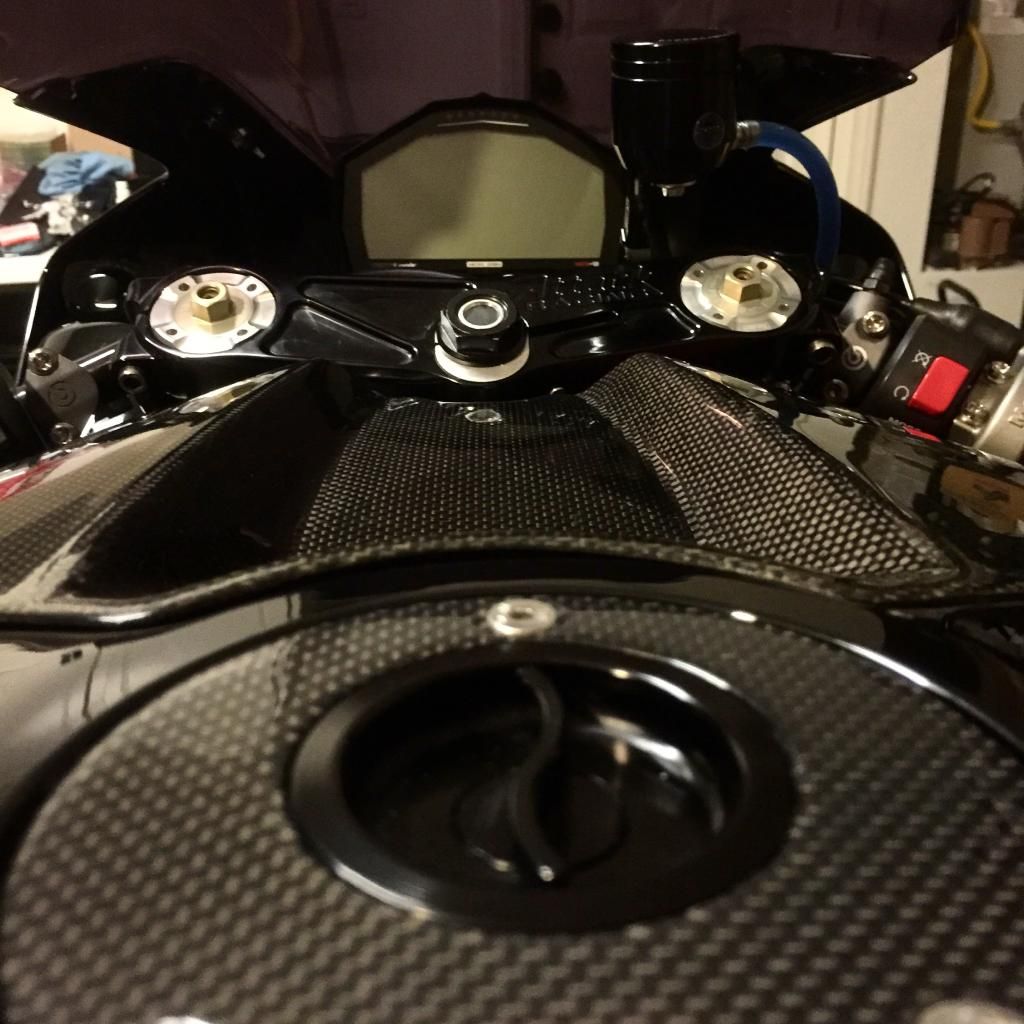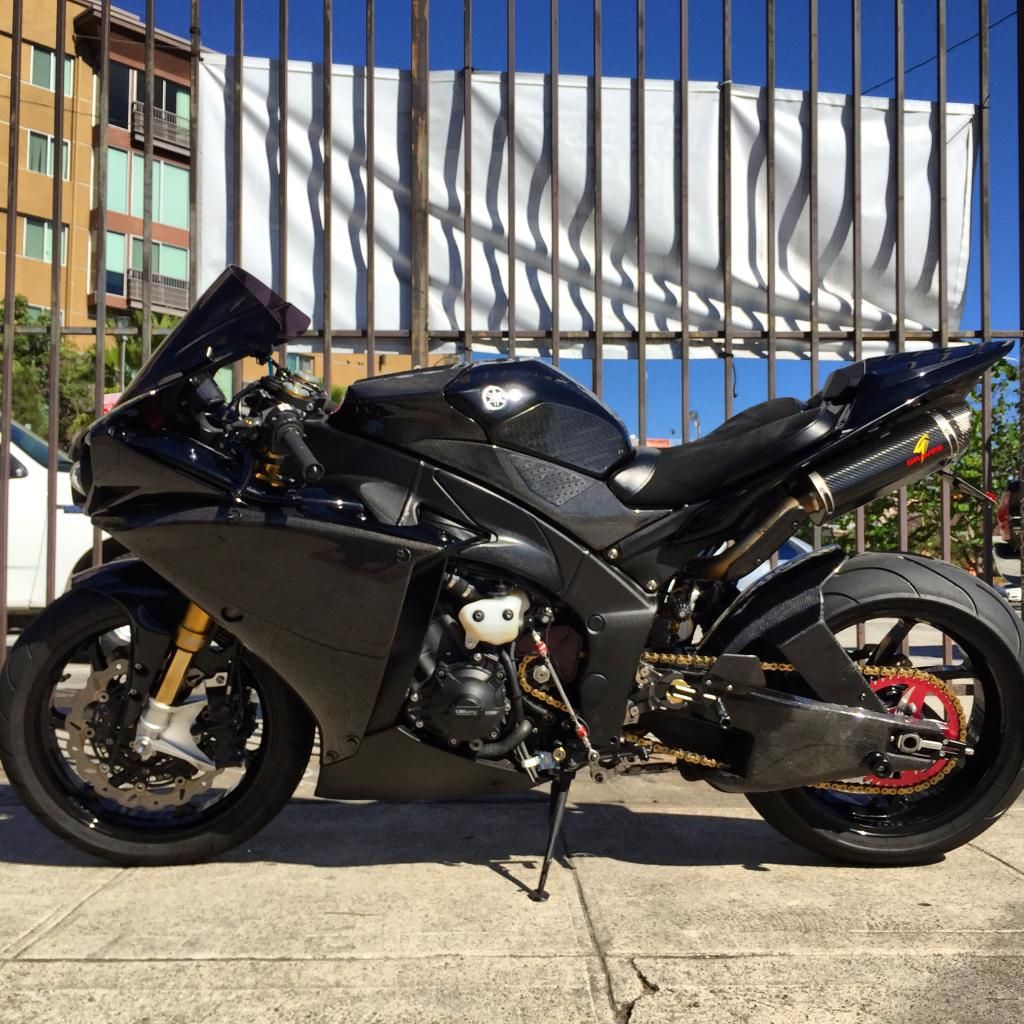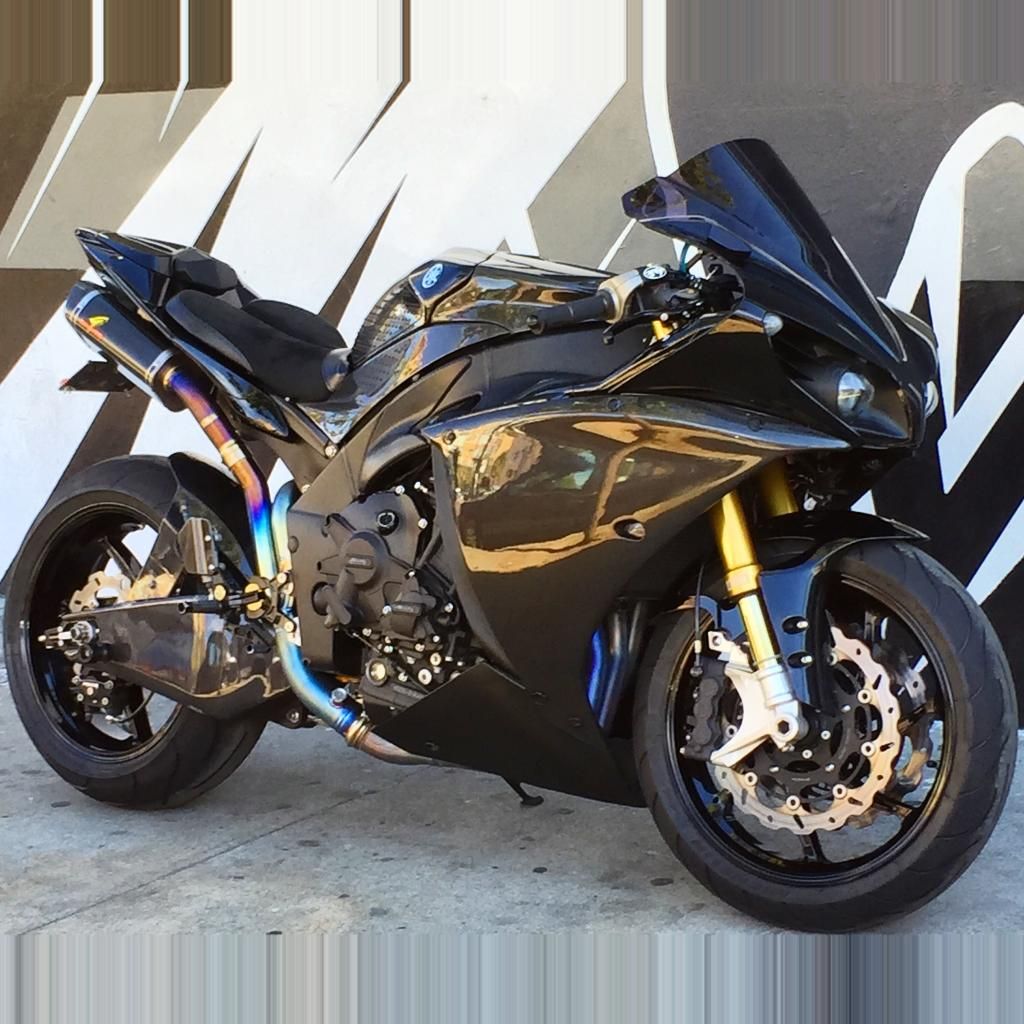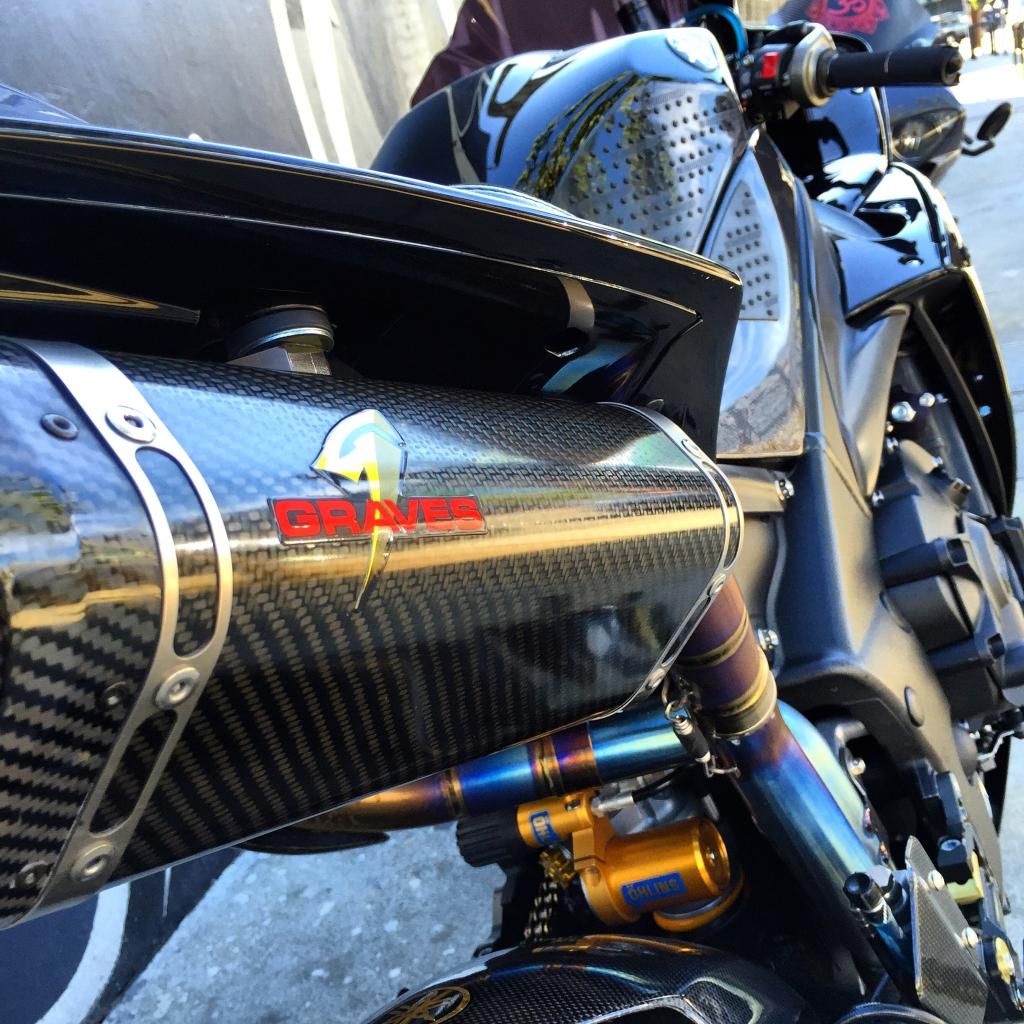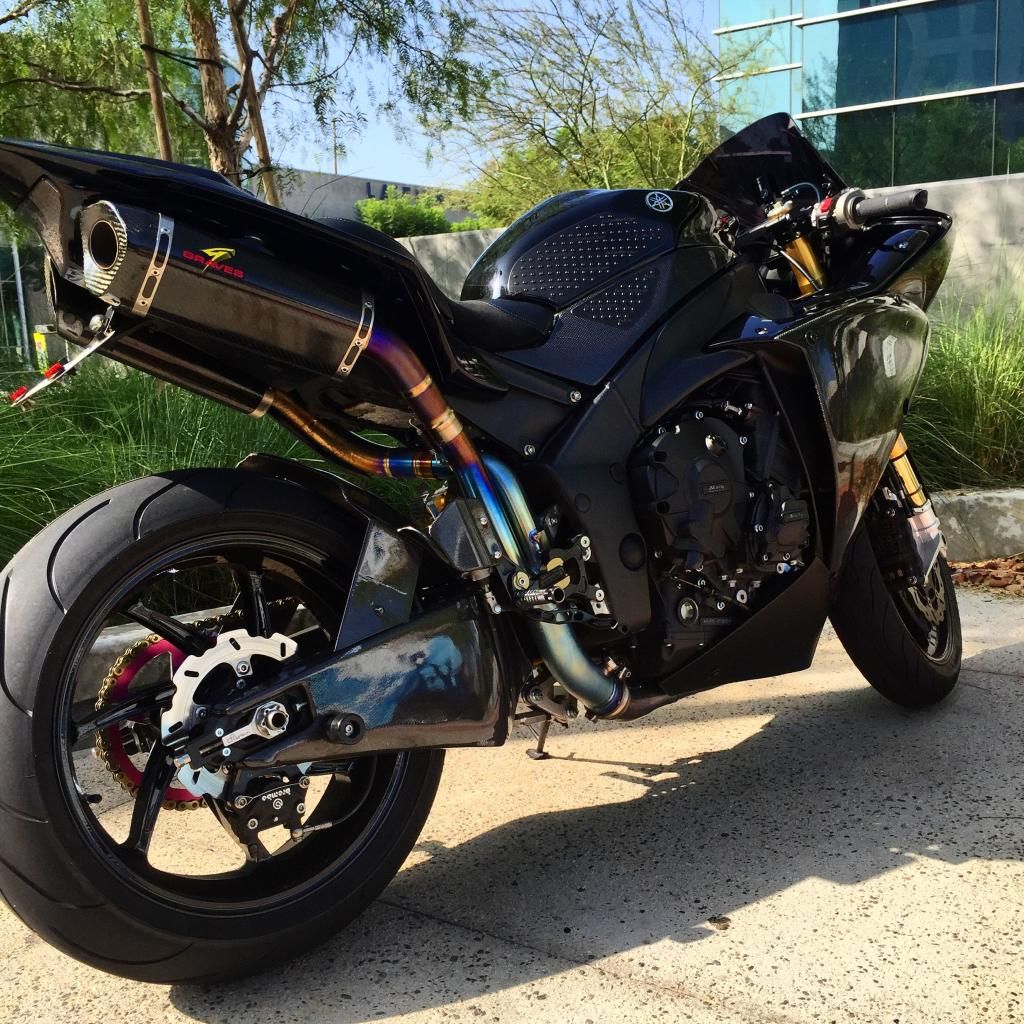 Track Form: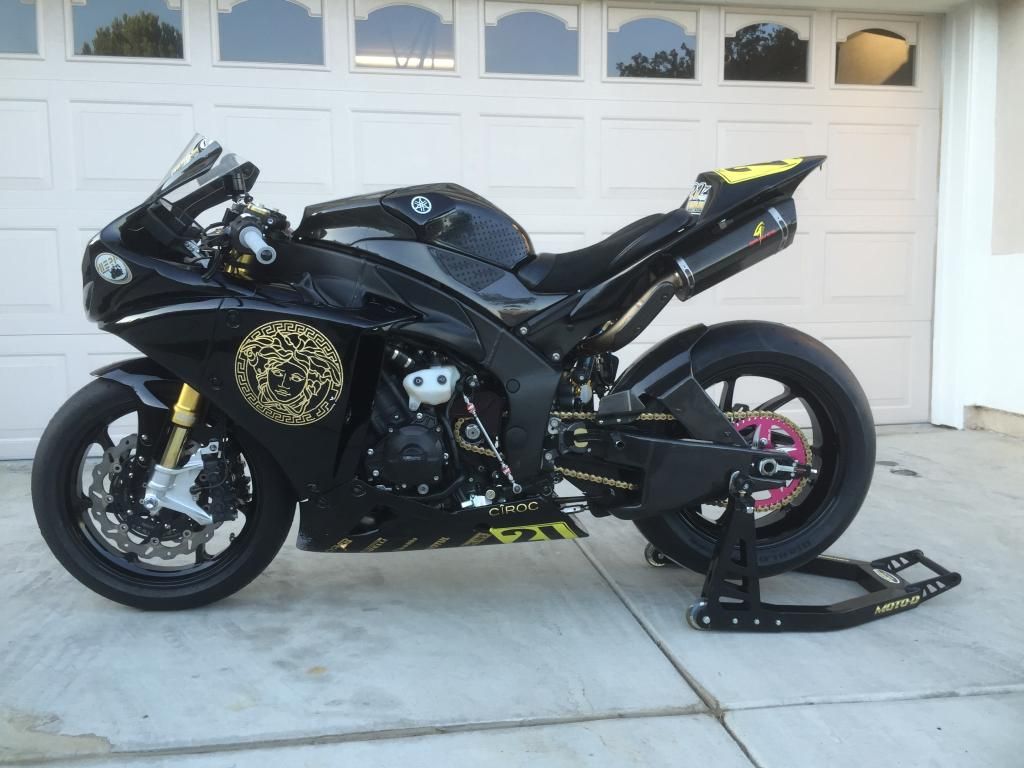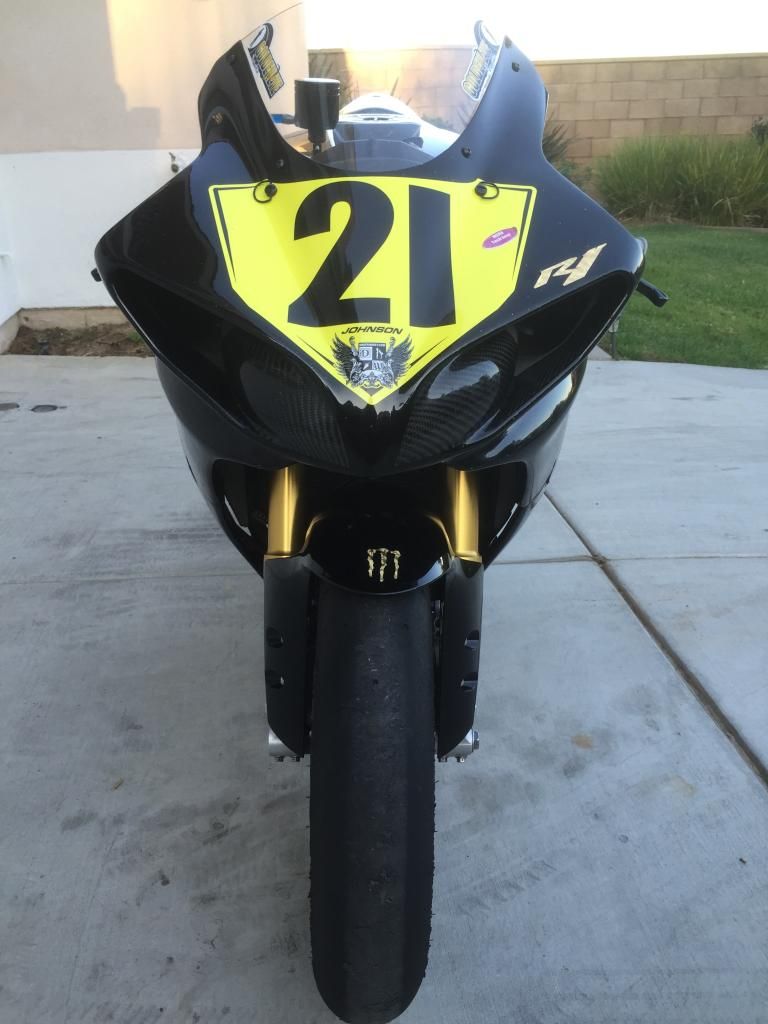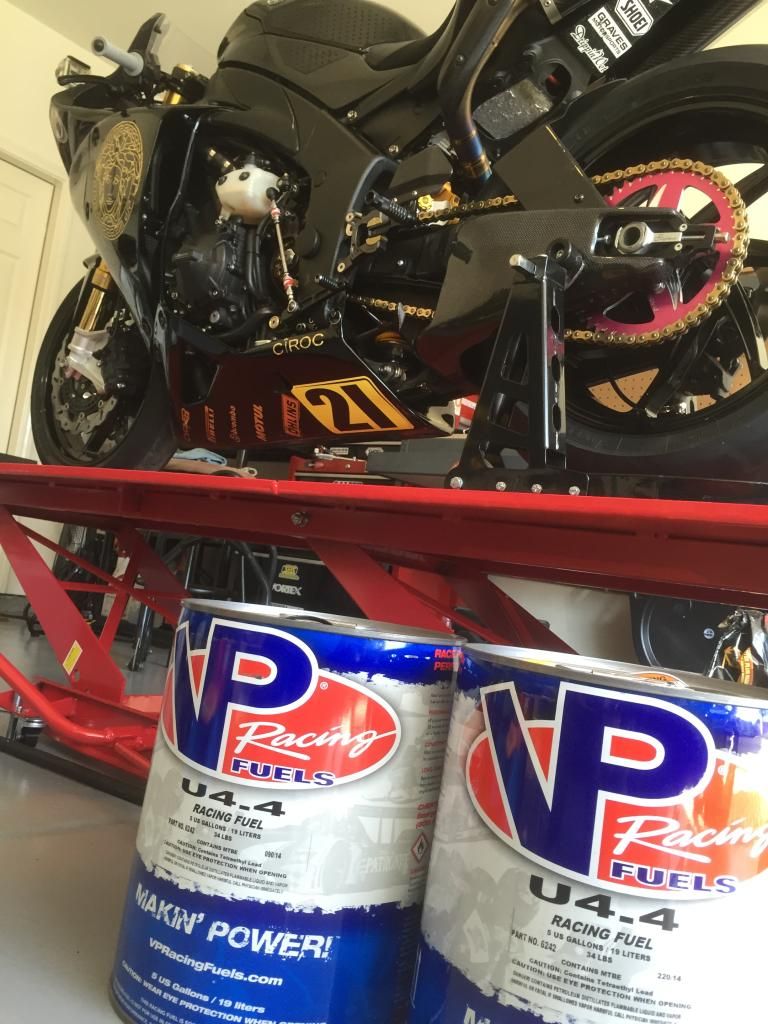 So the tear down from modded to OEM begins... Why you ask?
Because 2015 Gravespec R1.
Let the deconstruction begin...
:drevil: