I was proud of myself this year because I promised myself I would not buy a bike. As my friends know, I have been in a rut the past 5 years, and have picked up a new bike for some reason or another (2 crashes, 1 stolen). I am really starting to believe that Larry is rubbing off on me. I think I hung around him too much at the convention and at Mid-Ohio!
So my R6 won?t start...no problem. It has error code 14 on it that is related to the air intake. I take it down to track and trail, and turns out they have labeled it as "catastrophic engine failure". No problem...I have the extended warranty, so not to sweat it.....but Yamaha is dragging their feet IF they will fix it!
Anywho, this is the bike I purchased in Wisconsin last year. Track and trail wanted to see the bill of sale so they can show Yamaha they must take care of the problem.
As I walk to the service dept, they get a copy of the form, I stopped by and said hello to the 3 sales people who I know very well in the office. Just BS'n, I mentioned that I was looking for a track bike, but not seriously. If I see something, I will look at it, but not searching all day for one. One says, I have something you may be interested in--we sold a brand new 07-GSXR1000 to a 20 yr old kid. This was his first bike. (you know where this is going).
OK, so the bike fell over in his driveway, and he got rear-ended at a stop sign. His mother (who financed the bike) said he was never bringing that home, and the kid was scared to ride a bike again.
Looking at the damage, there seemed to be all the fairings, exhaust system, and engine cover as the obvious ones. I offered a price to take it, and here let me introduce to you the new 07 GSXR1000 in my garage: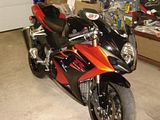 My poor R6: