Discussion Starter
·
#1
·
Alright. If you read my original thread, "'06 mod addicted owner", You know a little of my background and my reasoning for buying an R1. She is a prestine, 2006 50th Anniversary around 10k miles (at that time) with a couple bits already installed. Reason for not gunning for a brand new bike was the theme, "reasonable" my wife implied as this was a replacement vehicle that will have little to no financial impact on our spending. Yeah right... Well, an opportunity came up to refi our Infinity with our credit union for an amazing rate, so we decided to cash in on it. The topic of the bike came up, and we looked at our financing options and decided we wanted to refi the bike for a ridiculously low rate as well. Our credit union told us that they wouldn't refi it unless I gave them a down payment on the new loan, reason being, the value of the bike was less than the amount currently financed. :shake Also, they told me this was the last year they could actually finance an '06, so looking for decent trade-in value in the future was going to get very slim very fast. I already didn't have piece of mind knowing if I wrecked this bike today, the insurance claim wouldn't cover my loan amount :no So, after a couple weeks of discussions and financial planning, believe it or not, I'm in a position to unload the '06 and pick up a new '12 :boobies
Now don't get me wrong, I fell in love with my R1. The '06 has the best of all worlds... Especially when you upgrade the suspension. Power, looks, flickability, all of the above... Just at too much of a financial risk for me at this moment.
Now, I'm naturally a tough negotiator, and after some additional coaching from my Uncle-in-law (he's the best number cruncher in my circle by far and also my favorite unlce :fact), I was ready to hit the market hard and see what I could get for the amount I'm willing to pay, which is nothing over MSRP O.T.D for starters...
I called a few dealers and did some light negotiations, even visited a few and got the '06 appraised for trade-in value. No one was willing to give me the numbers I wanted, so the search continued into Labor Day weekend.
Then I found a dealer in Azuza that promised me top dollar for my trade in before I walked into the building :flex:
I spotted a lovely Raven R1, though they had all the '12 models, for some reason the new Raven stuck out the most...
They called this "Indian Theme" :shake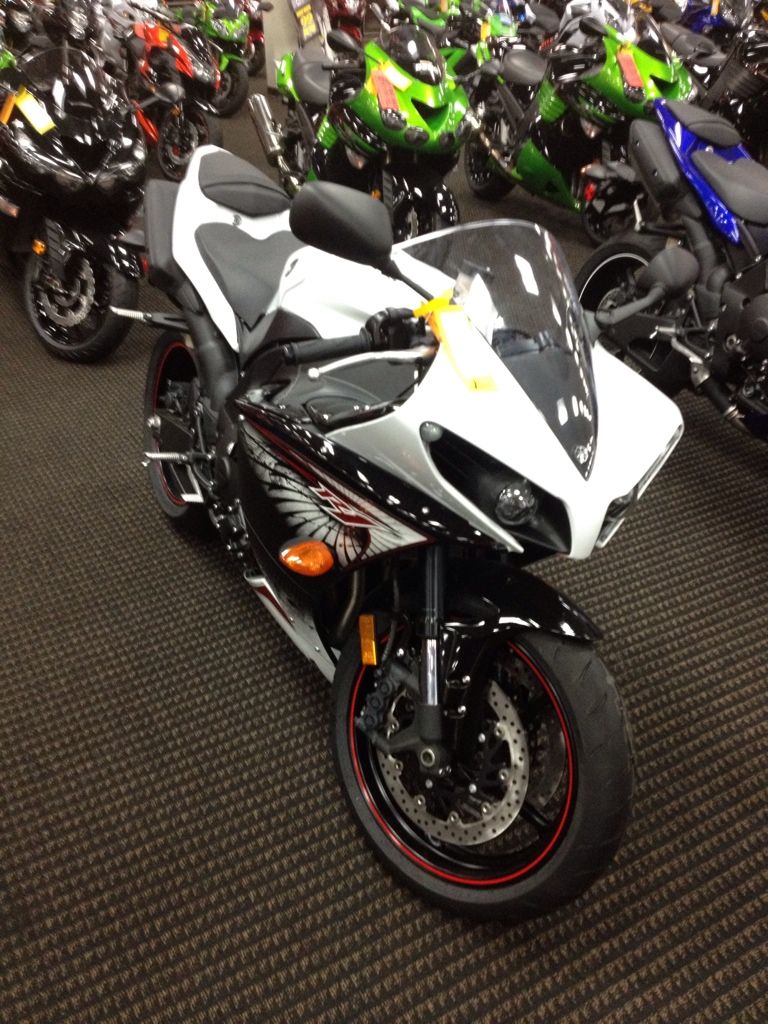 '12 in Blue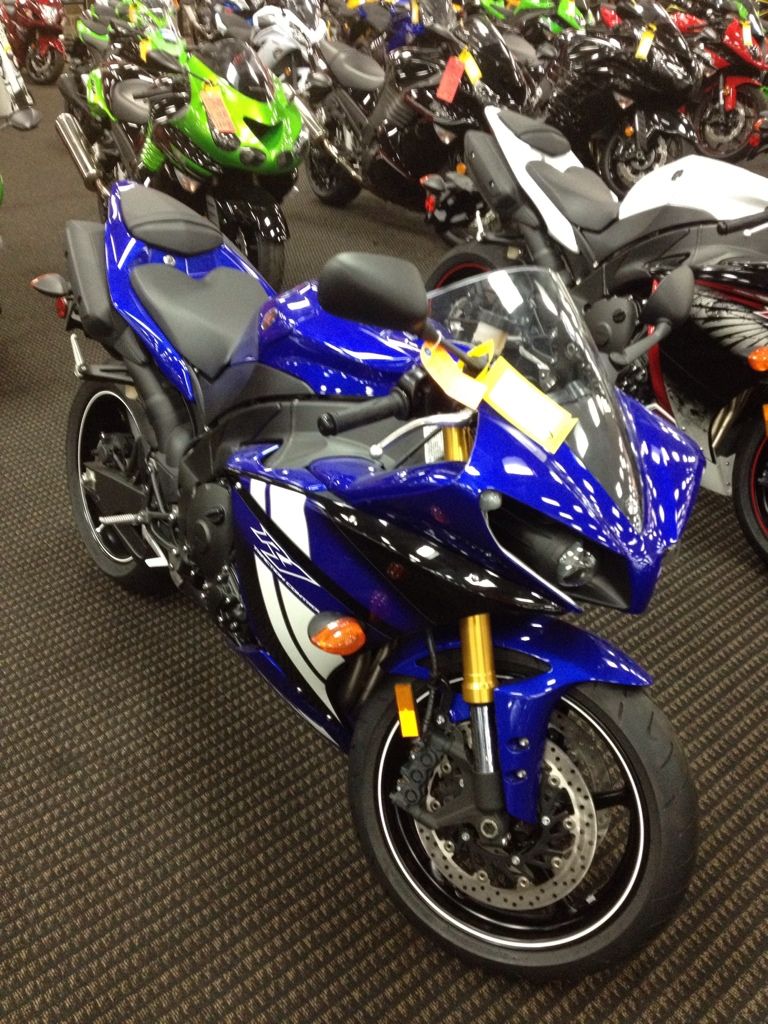 '12 Raven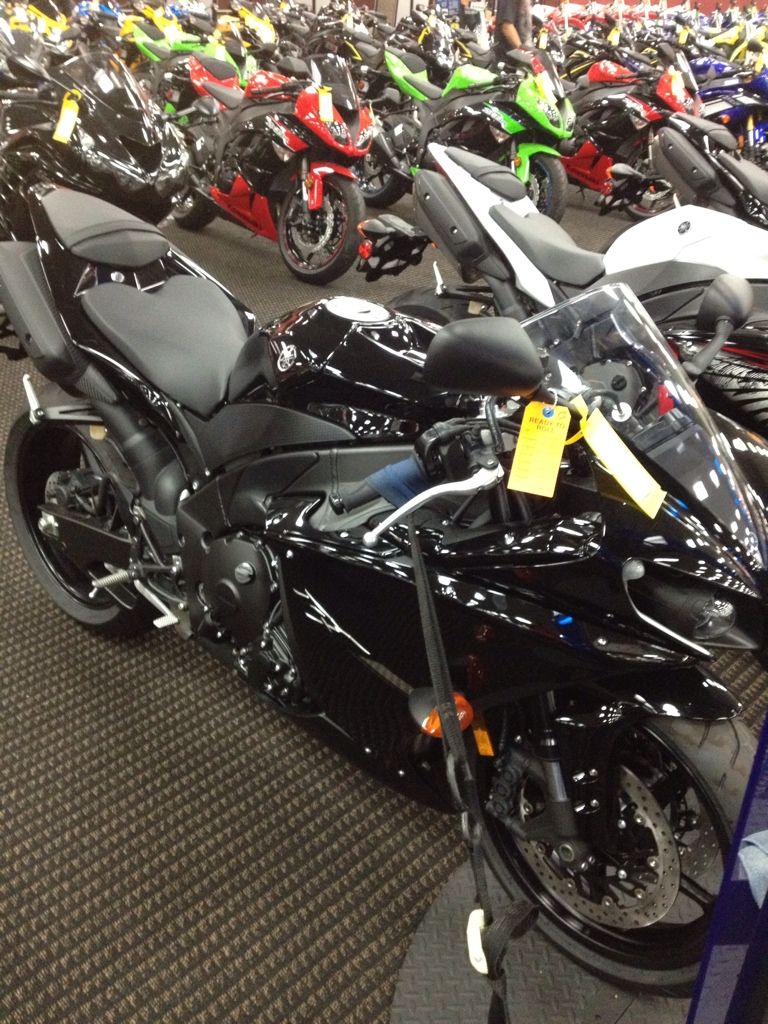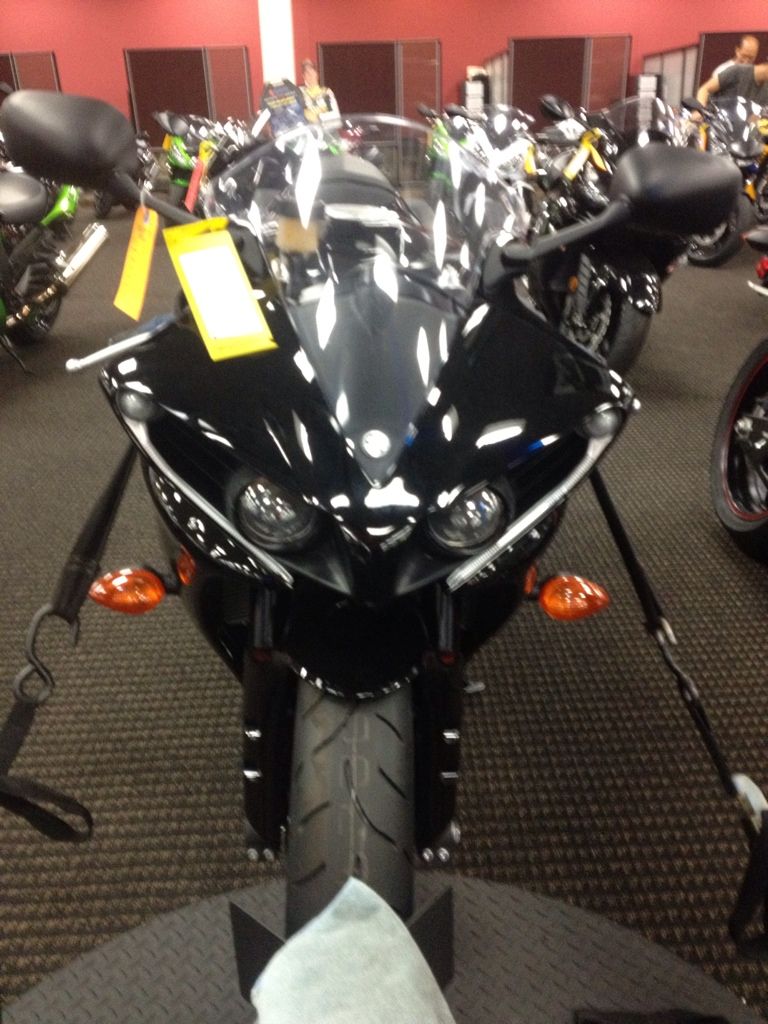 And me being a Honda boy previously, I had to look at other brands... Like Ducati and this Honda CBR 1000RR :dunno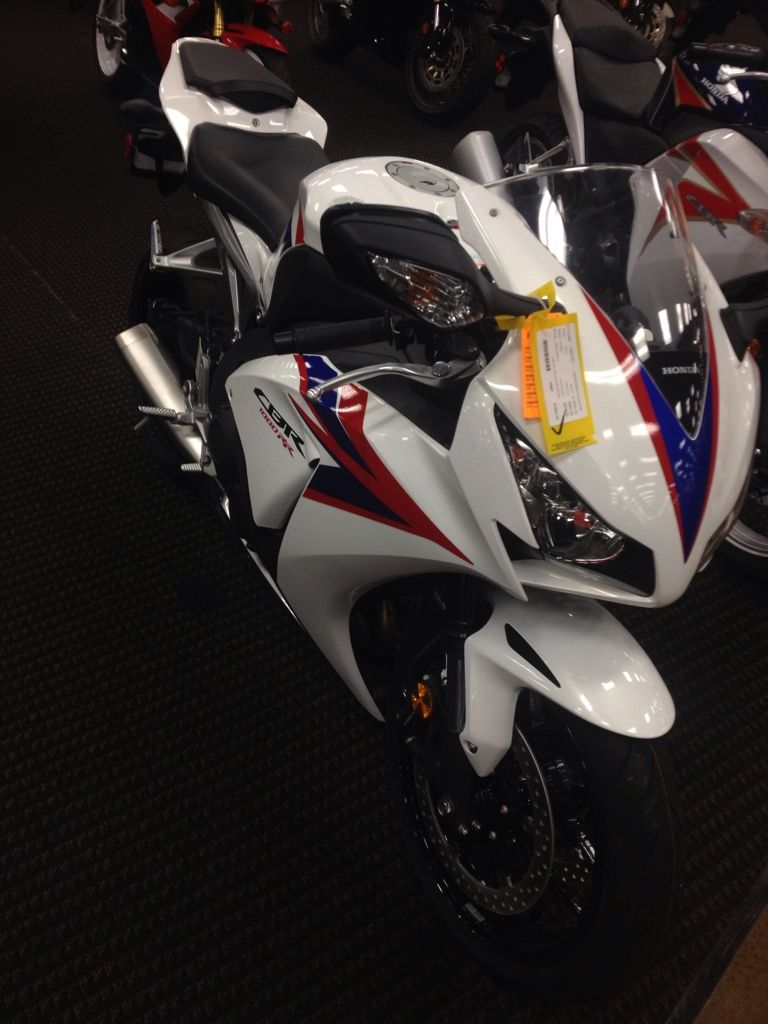 Honda CBR1000RR Dash and Showa's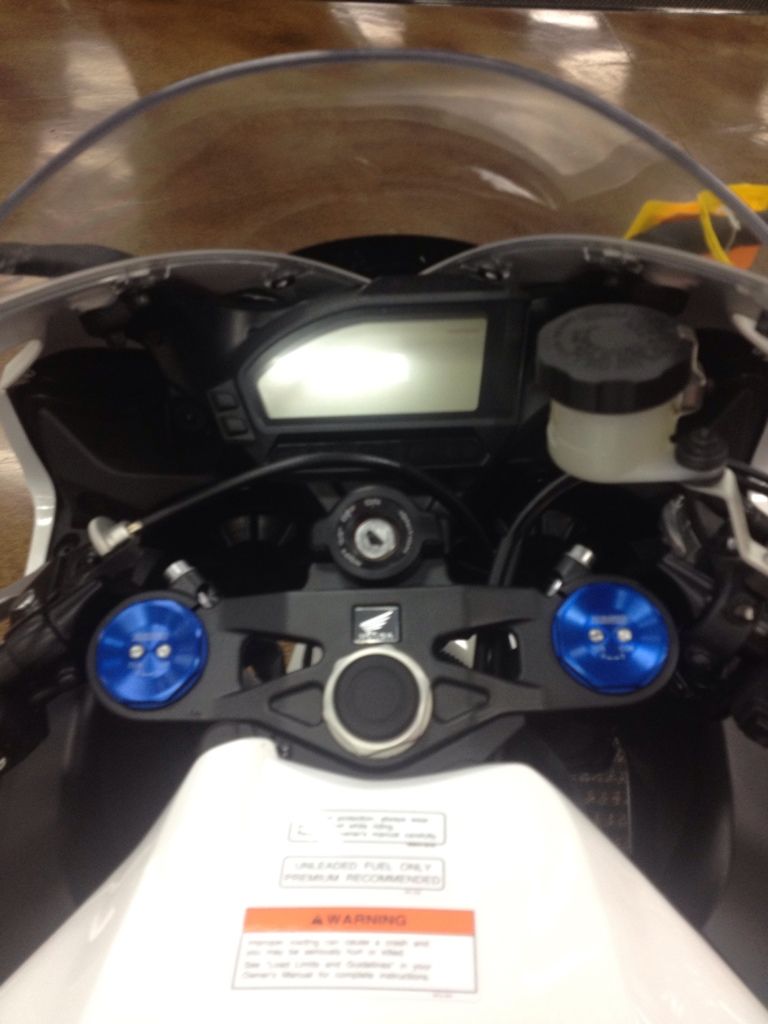 I sent those pictures to my wife's cell, and she immediately replied back and told me to get the black one. So the black one it is... :thumbup
The negotiations began. They initially came in with the MSRP of the bike, plus dealer prep, plus delievery fees, plus tax and DMV fees; basically take that number and add whatever was left on the last loan into this one. I immediately got that number down by price-matching with a local competitive Yamaha dealer that advertised their new R1's for a stupid low price. Then they wanted to appraise my bike, but before we could go outside and take a look at it, they tried to ask me how much I owe; that answer wasn't coming out until I got my numbers
FIRST
:gengar:
Long story short, they infact DID come back with the highest appraised value, but I knew I could get them up a little higher, but we'll see...
So we sit down for some hard number crunching. My #1 goal was to get them to buy the R1 for the highest amount possible, and whatever little money is left over to carry it into my new price... That being said, I know I'm going to take a hit, but the size of the hit is based on how much I can get them down... So myself and the sales manager (the sales rep has been pushed aside at this point) begin negotiating like two veteran mortgage brokers... About an hour goes by with back and forth... Each time the number is dropping... $19k OTD, $18,5 OTD, $17k OTD, $16,5 OTD... And now the numbers are finally starting to make sense :yesnod And after about another 30 minutes going back and for with the sales manager (even the owner got involved at one point to approve the numbers) and a couple times I was willing to walk away (even noting that this model is already a year old), we finally came to a number OTD I was more than happy with. They basically paid off my bad loan for free and gave me a killer deal on a '12 R1. Had them write up a sales contract and took that number to my credit union and viola! New 2012 Raven R1 for Mark. :riding
But now we have a slight problem... I need to take most the mods off my bike before turning it in as they give
ZERO
value to the bike appraisal!!!
So in a day's work starting around noon, I started putting these OEM parts back on the bike: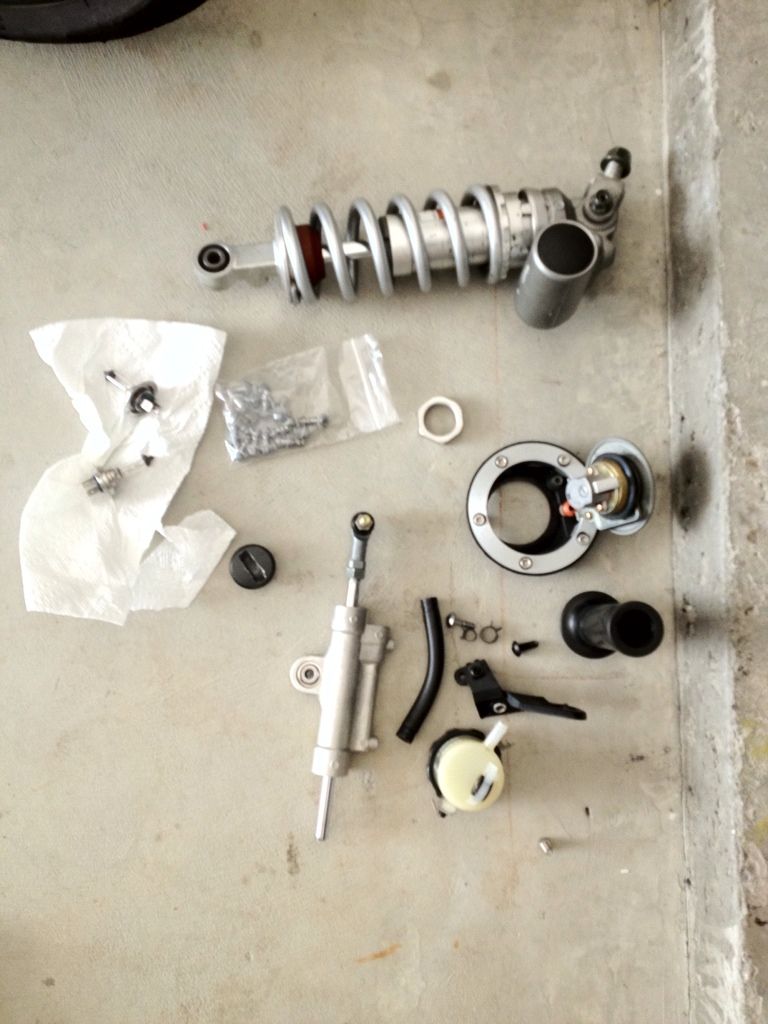 Aftermarket parts being removed and replaced with OEM:
-Ohlins Shock
-Rizoma Oil Cap
-SSR Gas Cap
-Rizoma Res & Bracket
-Rizoma Grips & Conical Ends
-Ohlins Damper
-Evotech Triple Nut
-D-Zus fasteners
-A&R Motorsports HID's
-Power Commander III USB
Aftermarket bits they are staying with the bike (since I either sold or don't have the OEM parts)
-Galfer Rotors Front & Back (I think I'm done with Galfer anyway)
-Puig DB Windscreen
-Graves Velocity Stacks
-K&N Filter
-Driven Block Off Plates (not worth replacing OEM AIS)
-Sato Racing Rearsets
-Vortex Top Triple (OEM yolk is trashed)
-Brembo MK2 MC
-OEM Solo Cowl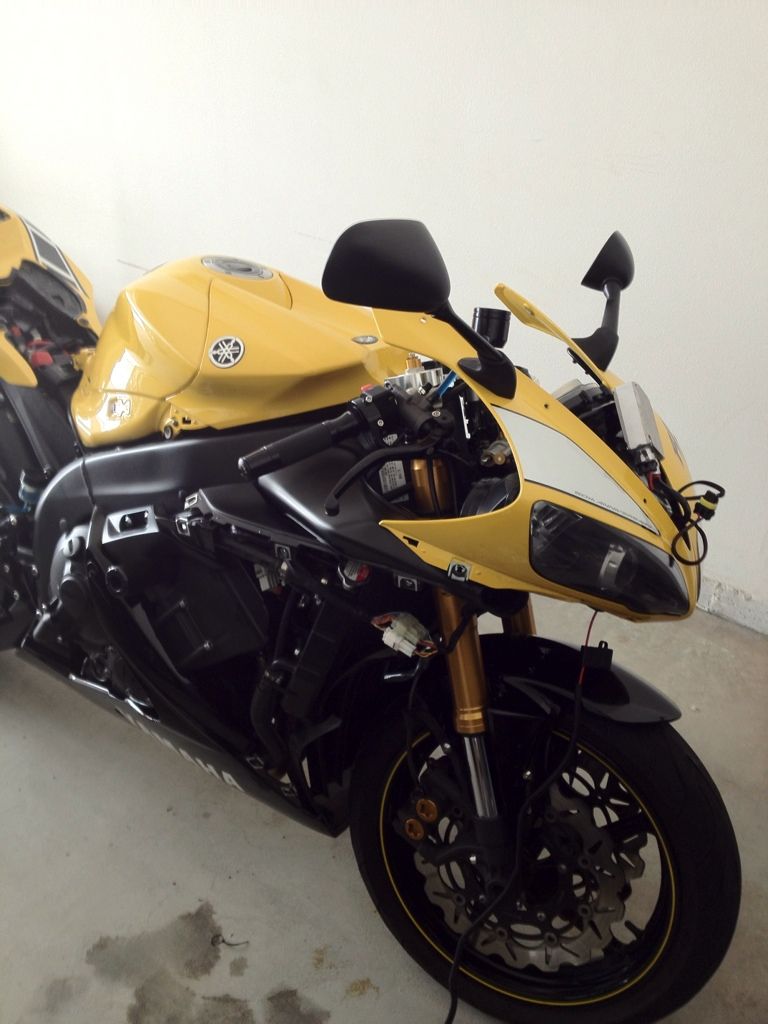 HID removal, D-Zus, gas cap, and oil cap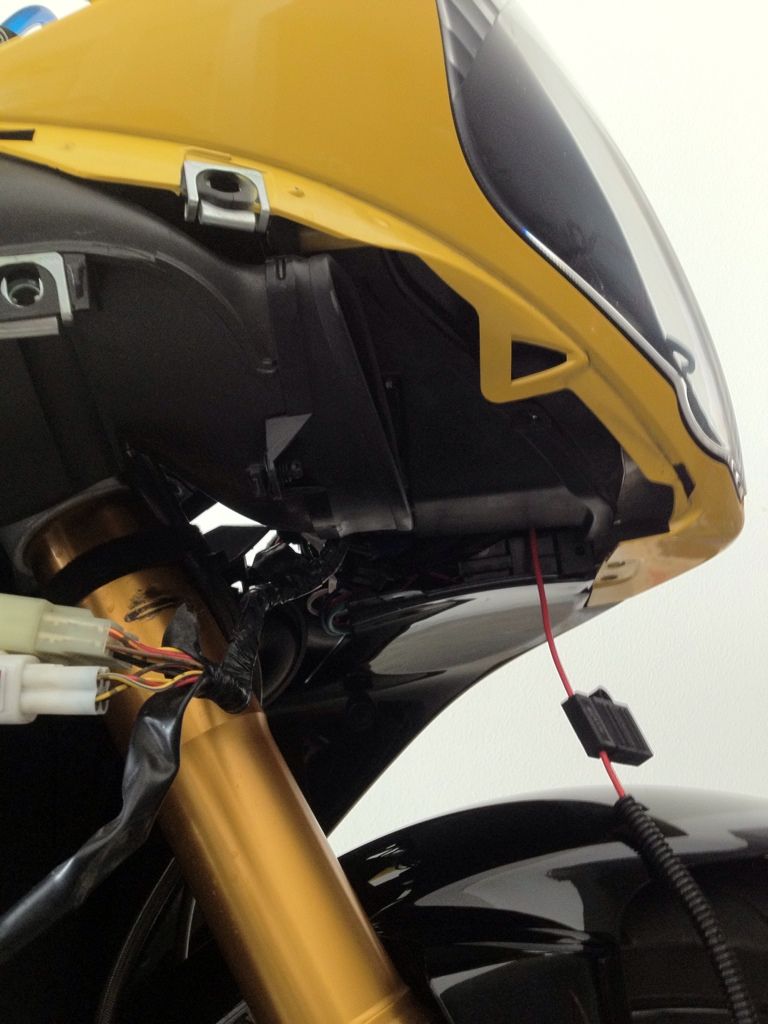 OEM Damper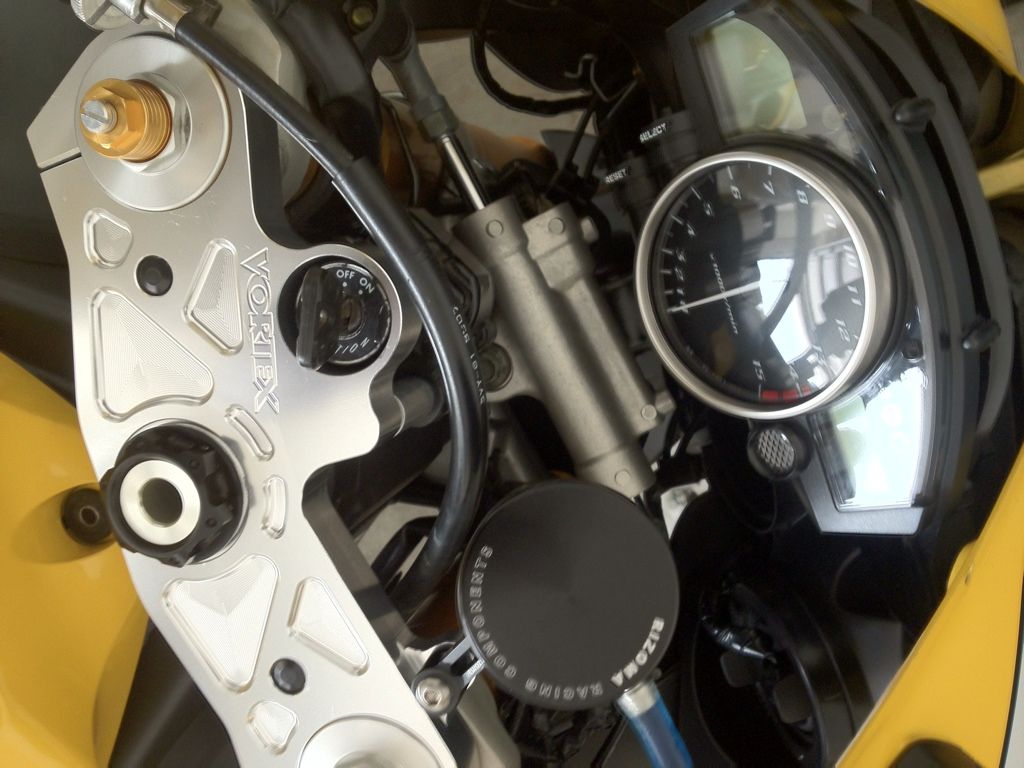 OEM Brake res.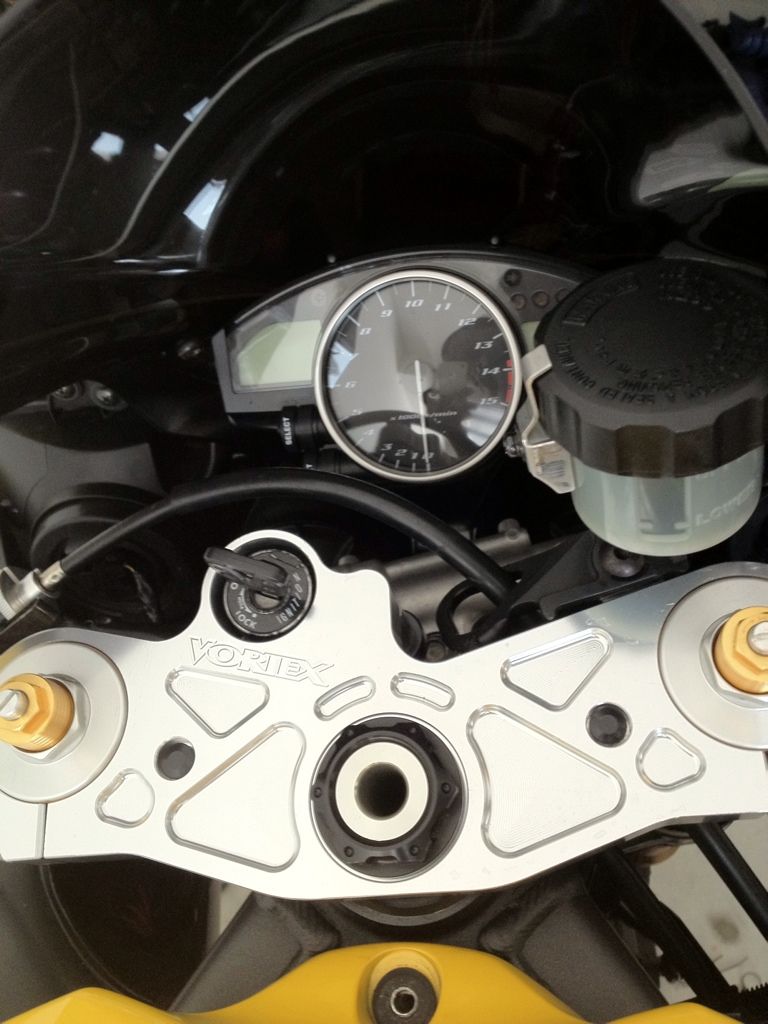 Power Commander, Ohlins Shock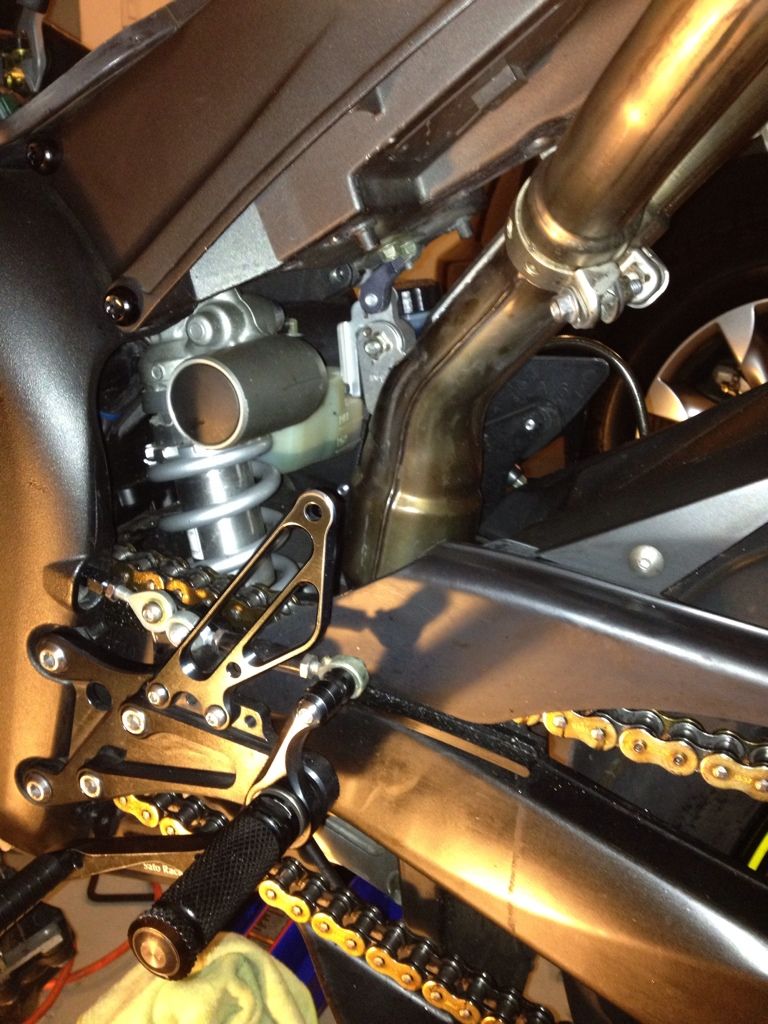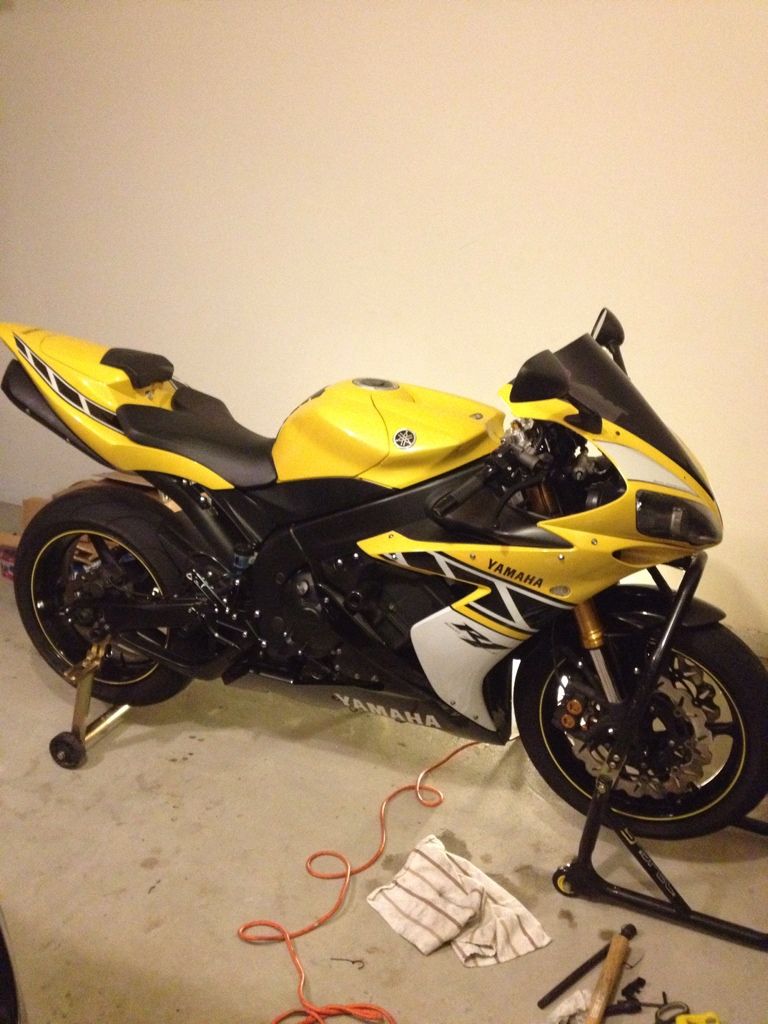 So after about 8 hours of labor I have most of the OEM items replaced. All that is left is the Rizoma grips (to be replaced with Rethal's) and if I can find a front master before Friday I could keep the Brembo MK2. :sing:
Looks like some lucky guy is going to inherit all those goodies... :corn
I guess it's safe to say that I'm crossing over to the CROSSPLANE side :ncont::ncont::ncont:
PARTS ARE FOR SALE... OHLINS SHOCK AND POWER COMMANDER FOR NOW... SEE MY SIG!