Discussion Starter
•
#1
•
Well, an experimental leap of faith and it appears things aren't THAT different between the 04-08 and the 09+ R1s.
Shermoto's levers are installed and working just fine. I was mostly worried about the brake lever not fitting because the master cylinder's a different shape, and I figured if it was different enough it simply wouldn't assemble, but it does.
The clutch lever fits absolutely fine with no issues what so ever and feels similar to a set of Pazzos I used to sport on my '05 R6. The only difference being Shermoto's lever is a bit more squared feeling while Pazzo's are a little more rounded, but I'm sure I'll get used to this over time. It actually feels nice to be sporting a set of shorties once again as, ever since I got the R1, I had to revert back to using stock levers...and I freakin' hated it!
The brake lever's even better, IMO, as it gives just the right amount of feedback and it only took a couple of miles of stop and go riding to get used to the new feel. The only thing I can think of mentioning that's a bit different would be its adjustability range. Perhaps due to it's slightly different orientation of the master cylinder (which is the only discernible difference between the 04-08 and the 09+) the adjustment range is a wee bit far out. You can see in the (washed out...sorry...flash) pics it's slightly farther out than the stock levers at close adjustment. But this isn't a functional short-coming so much as it's simply a slight difference, which is to be expected anyway when changing from stock to aftermarket.
Overall, I like the way the levers feel and look. Thanks to Shermoto Racing for bringing this great levers to us at such a competitive price!
Clutch Before/After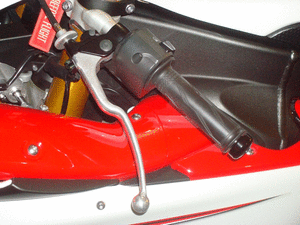 Brake Before/After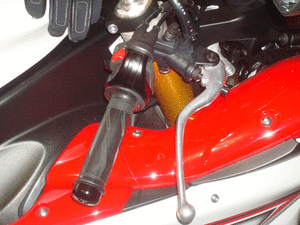 Installed Pics (No flash...looks better :crash)