I saw that this section has been a bit slow lately, so thought I'd contribute.
Here is the mostly complete mods list for the bike:
Chassis and braking:
Ohlins TTX and FGR Pressurized Gas Fork Cartridges
SBU Superbike-Spec Suspension Linkage and Link Rod
Attack Performance Adjustable Offset Triple Clamps
BrakeTech Oversize 330x6mm Ductile Iron Brake Rotors
Dymag CA5 Carbon Fiber Wheels
Brembo Billet 19x18 with Titanium Hardware and LBP switch
Brembo GP4-RX 130mm Nickel Calipers
Underslung Rear Brembo Caliper
Vesrah SRJL-XX Brake Pads (for steel rotors)
Ferodo XRAC Brake Pads (for iron rotors)
Spiegler Brake Lines
Galespeed Remote Brake Adjuster
Superbike Unlimited Rear Rotor
Ohlins SD 024 Steering Damper
Motoholders aluminum subframe with carbon fiber trays
Rear Brake HRC-style Reservoir Delete
Electronics:
GripOne P3 traction control with IMU and datalogger
SBU ECU Flash
2012 ECU/Traction Control Swap
Bazzaz ZFi-TC and Z-AFM
Techtronics CABS auto blipper
Alien Motion AM-12 Battery
Engine/Drivetrain/Cooling:
Superbike Head with Custom Cams
BDK Engineering Race Generator Kit
Graves Upper
and
Lower Velocity Stacks
Akrapovic EVO Kit II Exhaust
CSF WORKS 2.0 Radiator
EK 3D 520 Chain
Driven Sprockets
Graves Motorsports Manual Cam Chain Tensioner
Lacomoto Superbike Ram Air Tubes
WSBK-Spec Carbon Air Collector
High Pressure Fuel Lines
Modified Airbox
Controls and other hard parts:
Attack Performance Rearsets with short pegs
LighTech Chain Adjusters with Lifters
Apex MFG GP 50mm Clip ons
Sato Lever Guard
Motion Pro Revolver Throttle
Cox Radiator Guards
LighTech Axle Sliders
Domino SBK Grips
Tank Traction Pads
Fast Frank Racing captive/tapered billet wheel spacers
Bodywork and carbon fiber:
Lacomoto Carbon SBK Hugger
Lacomoto Carbon M1 Airbox Cover
Lacomoto Carbon Frame Covers
Lacomoto Carbon Swingarm Covers
Lacomoto Carbon M1 Front Fender
Lacomoto Carbon Case Covers
Lacomoto Pro Series Race Bodywork
Carbon Fiber Tank Sides
Removal of all unnecessary OEM items
As of March 2013:
September 2014: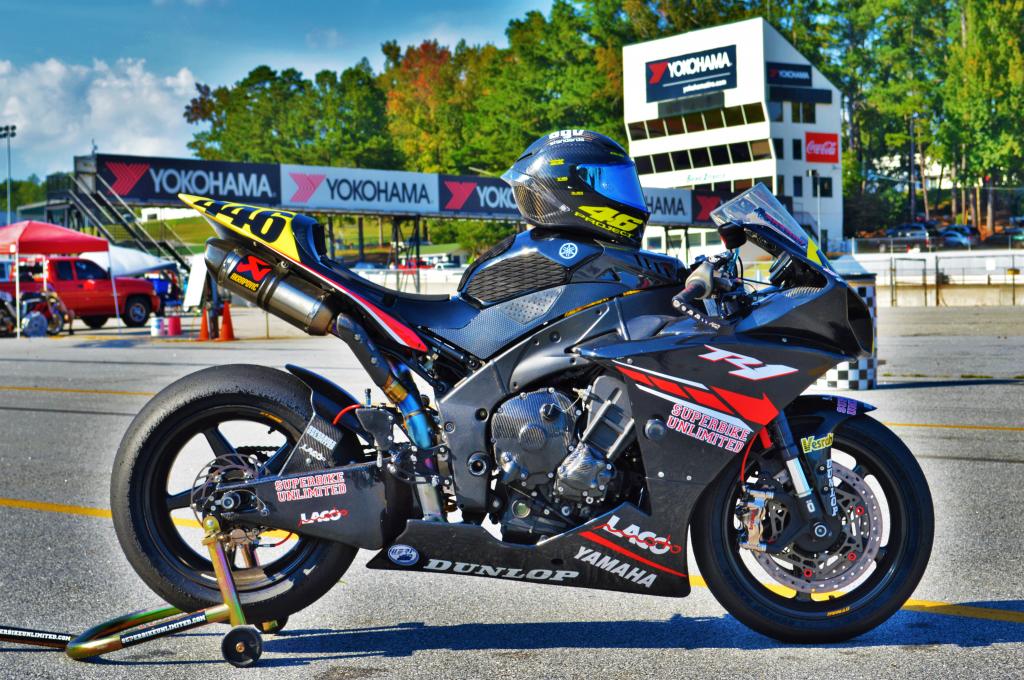 January 2015: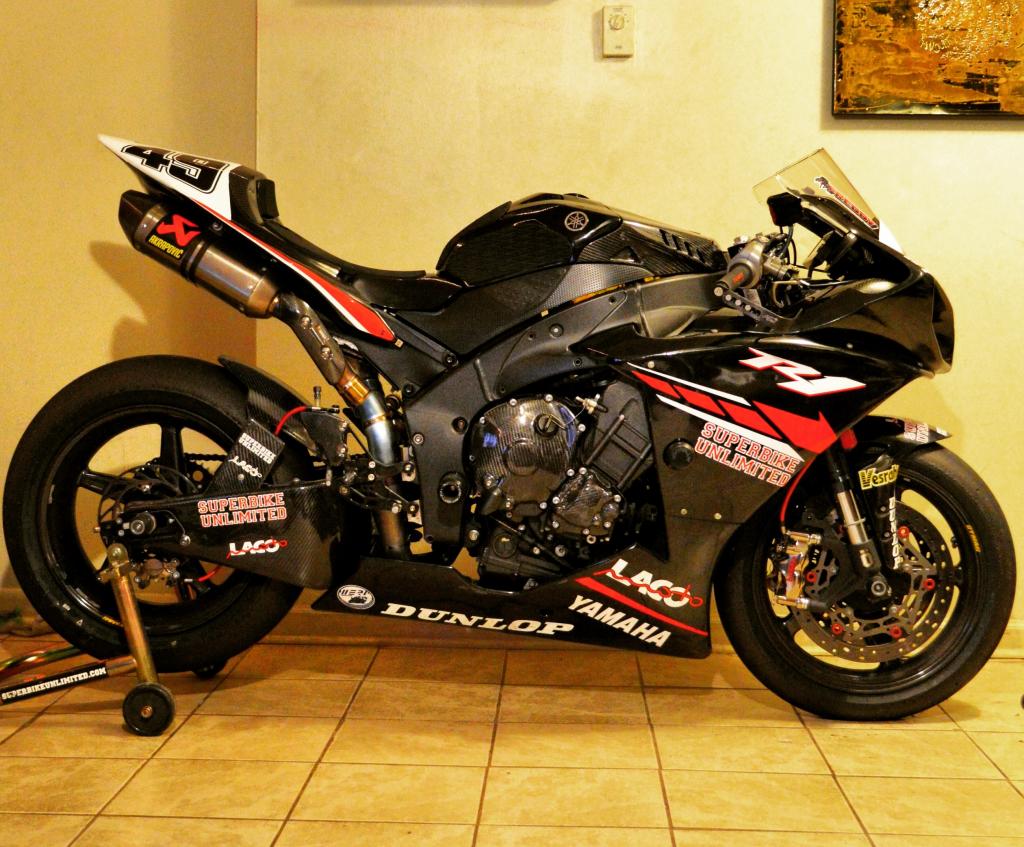 Dyno (pre-BDK generator kit, which likely added 5-6hp):
Now, onto the build!
Here's what we had to work with initially, a clean street ridden machine (found here on R1-Forum), had about 2,000 miles and some Leo Vince exhaust. Even in stock form, it's an impressive machine to ride.
The first thing he did was ditch the OEM tires. Went with Bridgestone S20s, which were pretty nice for street tires, but didn't last very long. We then upgraded the brake lines to Spiegler, got some Carbone Lorraine XBK5 pads and Justin cut down the Leo Vince exhausts. He didn't do the prettiest job. They did sound cool though. J began researching ECU flashing and began doing testing on the bike, which helped immensely after a lot of Beta testing. Much smoother and quicker. Here's a shot of the hacked cans:1pok: Don't worry. It gets better.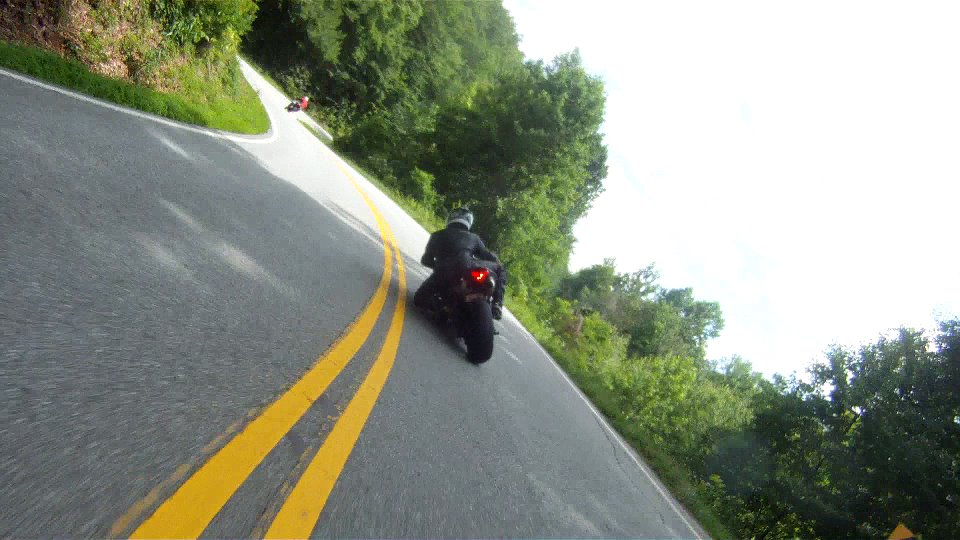 Next it was time to track the R1, so focus shifted to track worthy upgrades. A full slider suite, front axle, rear adjuster blocks, no cut frame sliders and clutch cover sliders were all purchased. Also purchased were a set of Q2s since the S20's were shagged in only about 1,000 miles. Next were
Vortex V2 rearsets,
stomp grip, a 16T front sprocket, seat cowl, Danmoto titanium 300mm GP style slip ons, a billet race gas cap and some 55w 6000k HIDs for street riding/increased visibility. They look nice with the projectors. We also got a decent anodized brake lever to replace the speed metal junk brake lever that was on when the bike was purchased. Rick at Cogent Dynamics also adjusted the stock suspension and did a great job at tweaking the settings/setting sag. We also removed stock stuff like reflectors, front sprocket cover, passenger pegs, etc. Next was a weekend at CMP, where the R1 did great. The GP slip ons knocked something like 7lbs off of the bike. The LVs were remarkably heavy.
Next, was a new
Ohlins TTX
out back and a
DynoJet quickshift sensor
that we were able to integrate into the ECU via flashing. Also purchased was a custom LED integrated tail light with a brake light flasher. Thing is crazy bright and works very well, OEM quality unit. An
Alien Motion 8 cell battery
(only 1.1lbs) rounds off this series of upgrades.
Next, we got some Renthal clip ons. We also went with a Bazzaz TC unit and switched to GP shifting in the process. Starting to get there..
Next we purchased a 520 conversion kit (
RK520GXW Black,
Driven sprockets
) with both the front and rear sprocket smaller (-2 on both), got the forks redone with
Ohlins 30mm piston kit and springs
and purchased some LBP titanium GP style canisters from our friend SimonKobe. These are awesome, solid titanium, beautiful welds, and the sound the crossplane deserves. We had them mated to our mids by a local performance shop.
Naturally, we installed a few of Lacomoto's awesome CF pieces on the bike, which we'd been drooling over for some time. We installed driven AIS block off plates to get a good AFR for the autotuner, got a probolt Titanium rear axle nut (dropped less than an ounce, ha) we also did the SBK style rear brake reservoir delete. While we were under the tank, we replaced the fuel line with some high pressure fuel injection hose, to avoid kinking in the fuel line we've read about. We also put some Michelin DOTs on there... unfortunately some track plans were canceled and they were mostly used up on the street, which was a bit of a waste. Bike is finally getting close to what we'd visualized initially.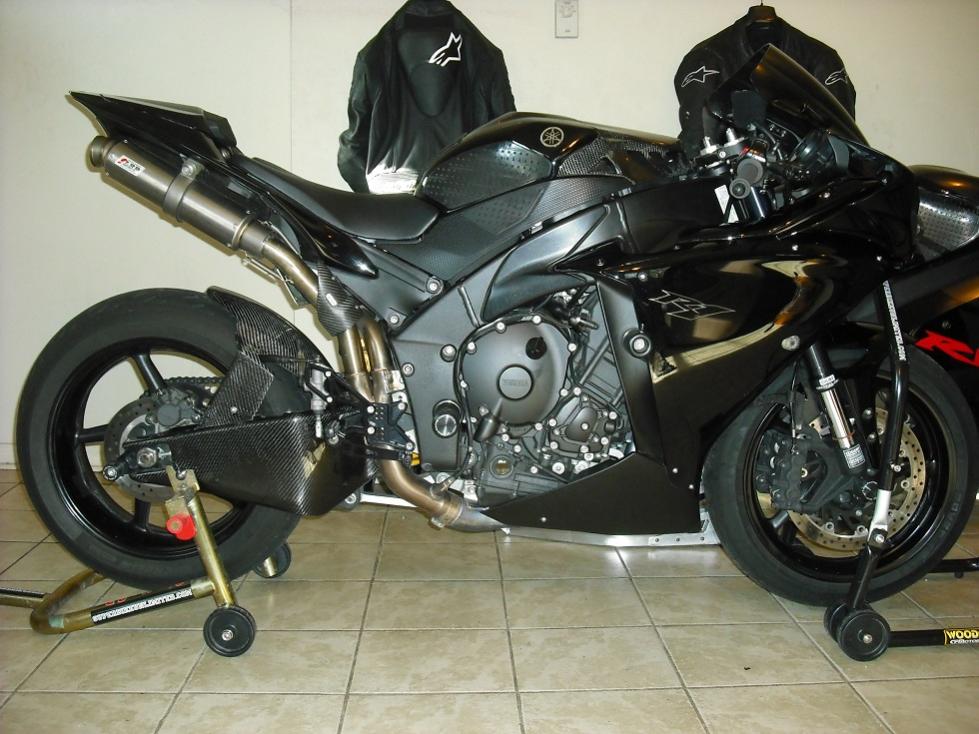 Next, we got some
Pirelli Superbike Pro slicks
for racing and track time, some Q2s for the street. We also ditched the CL XBK5s in favor of some
Vesrah RJLs
, a welcome change. The XBK5 was OK, but we needed something with less fade and a bit more bite. We then installed
Lacomoto's engine case covers
, which are awesome. We also have our full Lacomoto racing plastics kit, which was above and beyond what we expected. All hardware is already mounted on the plastics and all stressed areas are reinforced with carbon fiber. It's very flexible and light. I was both surprised and excited to see that it included an SBK upper and larger ram air tubes. Guess we'll be doing some auto tuning at the track! Looks the part as well!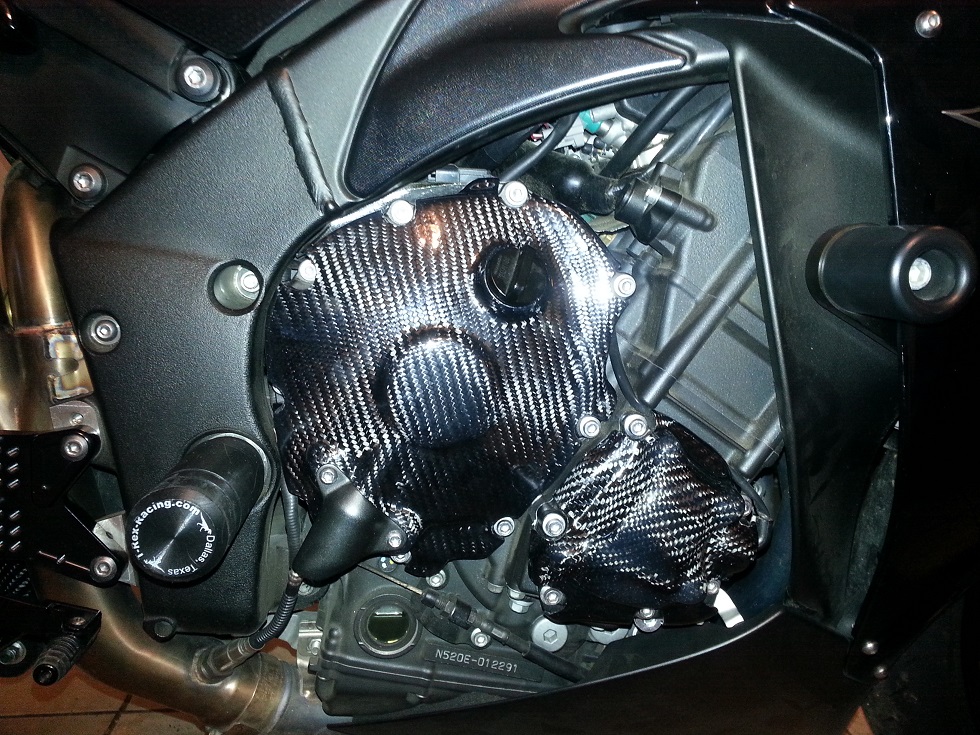 Got the race plastics on. These track plastics are awesome, I love Lacomoto stuff. No trimming was required, all hardware was preinstalled and included 1/4 turn screws with plastic washers. All mounting and stress points are visibly reinforced with carbon and lastly it's designed to remove a lot of metal pieces and other stock junk from under the seat and tail. I think the race plastics have probably dropped 20-25lbs from the bike, at least 15-17lbs in the nose alone.
The upper on the Lacomoto kit is pretty cool. It is an SBK style with larger intake ports and considerably larger ram air tubes that mount into the airbox without the rubber grommets, much like the Sharkskinz superbike kit (without the plenum of course). But it also funnels down into smaller inlets that will mount up to the stock rubber tubes. If you want to run the SBK tubes, you cut down that part and the SBK tubes go over it all. They decided to use the stock tubes initially for time reasons and fueling concerns, there won't be enough on track time to compensate for the increased airflow and get tuning done. Here are some pics, pre vinyl.