·
Registered Adrenaline Junkie
When I bought my Vortex 16t front sprocket, it came with no instructions. The piece is Asymetrical, one side having a larger/thicker "mounting area"...
Pardon the pre-school-esque drawing, but its the best I could do to make it easier to understand...
Is this how its mounted? The blue side being the thicker of the 2 surfaces...
I eyed it up with the chain-guide thing on the axis of the swingarm, that the chain rests on, and this way was the most "in-line" with it...
:dunno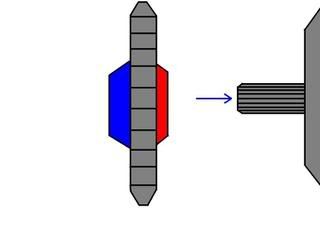 Seems to me the thicker side would be made like that to compensate for the loss of width, going to 520 from 530... Meaning I have it on backwards...
:dundun: